About me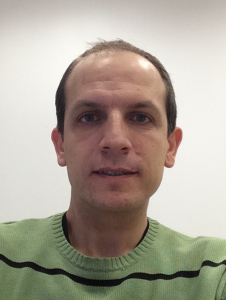 I received in 2000 a B.Sc. in Electronics and Telecommunications Engineering (Mobile Communications and Satellites Speciality) from University Politehnica of Bucharest. From 2000 to 2005 I worked as hardware and software development engineer for the Elektronik- Forschung- and Entwicklungsgesellschaft m.b.H (Muehltal, Germany), being responsible for the development of a data and voice communication system for prisons and hospitals. From 2005 to 2011 I worked in the same area in Bucharest, Romania. I received in 2013 a Ph.D. degree (Magna cum laude) in Electronics and Telecommunications Engineering from University Politehnica of Bucharest, with a thesis entitled "Efficient Use of Spectrum based on the Cognitive Radio Technology". Since 2007 I have been with the University Politehnica of Bucharest, Faculty of Electronics, Telecommunications and Information Technology, Telecommunications Department, where I have been Teaching Assistant (2007-2013), Lecturer (2013-2019) and Associate Professor (since 2019).
My research interests are related to the wireless communications field, with an emphasis on cognitive radio technology, spectrum sensing and dynamic spectrum access. I have been involved in several European-funded and national research projects, from which for two I was project manager.
I have published over 40 papers in refereed journals and recognized conferences. I have been a member of the Technical Committee for several international conferences, as well as reviewer for IEEE, Springer, Elsevier and MDPI journals.
I am a Member of the Institute of Electrical and Electronics Engineers (IEEE), IEEE Communications Society (ComSoc) and IEEE Broadcasting Technology Society (BTS).
Positions:
oct. 2019 – present – Associate Professor
University Politehnica of Bucharest, Faculty of Electronics, Telecommunications and Information Technology , Telecommunications Department
oct. 2013 – sep. 2019 – Lecturer
University Politehnica of Bucharest, Faculty of Electronics, Telecommunications and Information Technology , Telecommunications Department
oct. 2007 – sep. 2013 – Teaching Assistant
University Politehnica of Bucharest, Faculty of Electronics, Telecommunications and Information Technology , Telecommunications Department
2006 – 2011 – Development engineer – hardware and software
CDE Electronic Consult SRL, Bucharest, Romania
sep. 2000 – dec. 2005 – Development engineer – hardware and software
Elektronik- Forschung- and Entwicklungsgesellschaft m.b.H, Muehltal, Germany
2000 – Engineer
National Radiocommunication Company (Radiocom), Radiorelay Department